We are seeking student who interest to our researches and a motivated student.
Fullfilling Research Life
Joining in international conferences in groups every years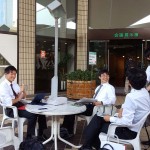 Target setting is important in the research life.
Our students join in intenational conferences in groups every years.
If you're worried about your research, professor and staff support you.
Event with students and teachers outside our research room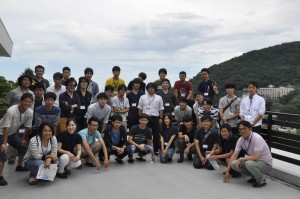 Ski trip to Shiga Kogen, a annual welcome party and send-off party etc.
Then you can exchange research informations and other informations.
This experience will help you grow as a person.
Internship which you can experience abroad to study
In addition to assigning interns to desired companies, this laboratory is promoting internships to overseas companies (such as Southeast Asia) who possess technology related to research.
You can gain experience not only for domestic but also global talent.
Future path
Fulfilling employment record
TOSHIBA Corporation
Sony Corporation
Matsushita Electric Industrial Co., Ltd.
Matsushita SemiConductor Engineering Co., Ltd.
Hitachi, Ltd.
NEC Electronics Corporation
Mitsubishi Electric Corporation
Renesas Technology Corp.
Freescale Semiconductor Japan Ltd.
Sharp Corporation
Canon Inc.
SEIKO EPSON CORPORATION
Richo Co., Ltd.
DENSO CORPORATION
Honda Motor Co., Ltd.
YAMAHA MOTOR CO., LTD.
OMRON Corporation
Asahi Kasei Corporation
Nichia Corporation
Sanken Electric Co., Ltd.
NGK Insulators, LTD.
Wave Technology Co., Ltd.
Nagano National College of Technology
Beyond the doctoral course
There are some seniors advancing to the doctoral course After graduating from the undergraduate course and the master's course.
And they got a job at a general company or become a professor from doctoral researcher.
Please talk to us if you're anxious.